Threads
Meta's Threads, Twitter's New Rival, and What it Means for Businesses
Meta's Threads, the new kid on the social media block, launched on Thursday, July 6th, amassing 70 million users by the time of this writing on Friday, July 7th. That means a new platform for marketers and businesses to strategize around, as early adopters.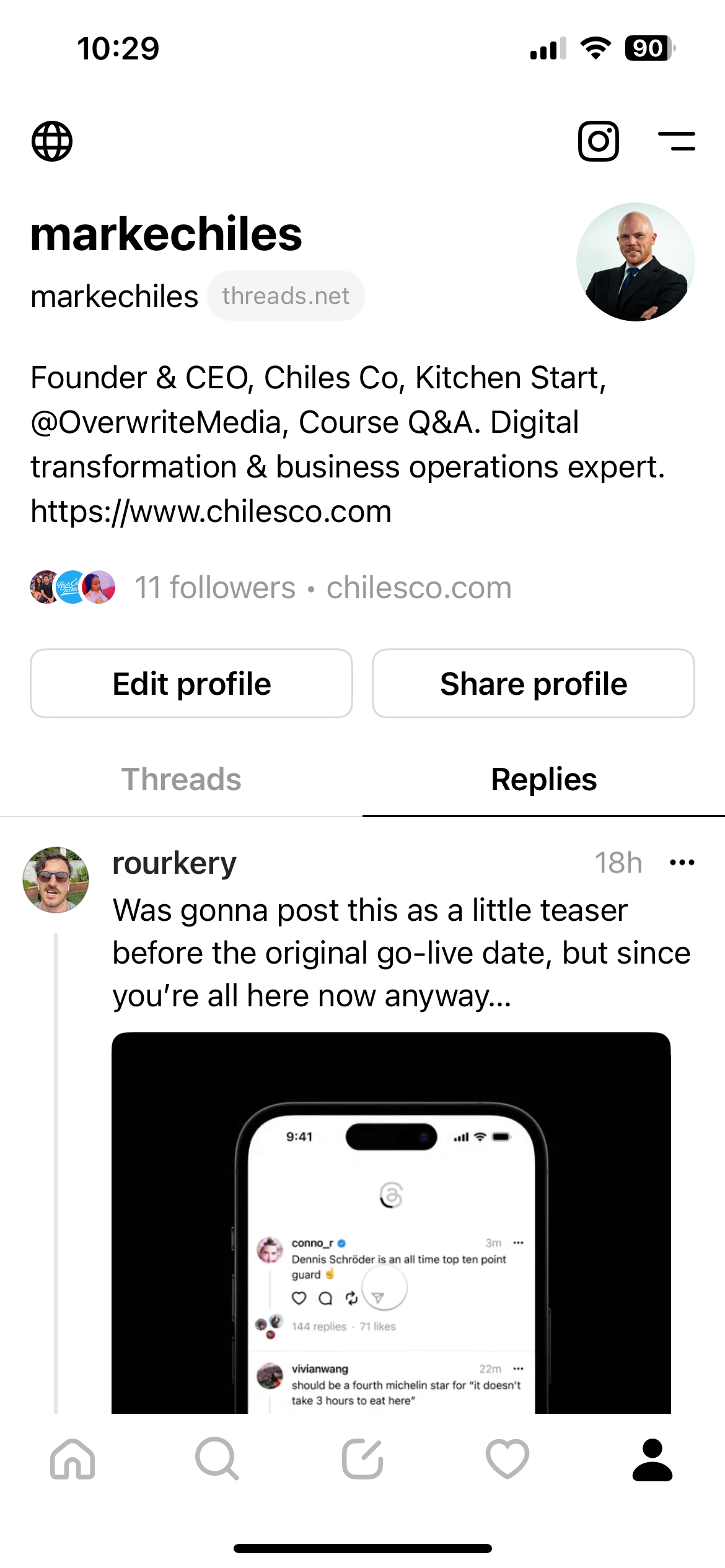 Threads, the new kid on the social media block, launched on Thursday, July 6th, amassing 70 million users by the time of this writing on Friday, July 7th. That means a new platform for marketers and businesses to strategize around, as early adopters.
---

A primer on how to sell your company
They Got Acquired is THE newsletter that shares stories of companies that sell for $100,000 to $50 million. They've just launched a course on how to sell your business. If you're looking to sell your business, then this is FOR YOU! In just one hour, you'll learn:

What to expect from the sale process
Your options for finding a buyer
How to create your own roadmap to sale
The format of short videos is easy to digest, where you'll get in-depth explanations of the full process.
---
Meta announced their new Twitter competitor, Threads, earlier this week, then launched it to the masses. And the masses took note, gaining over 70M users in less than 48 hours.
The premise of the app is to rival Twitter, in form and function. A thread is similar to a tweet, with a 500-character count limit, allowing text, links, photos, and videos up to 5 minutes long to be posted. By default, any user under 16 (or 18 in various countries) will have their account set to Private. According to the announcement, there are similar security and notification features as Instagram. One thing to note - it's not currently available in the EU. When that becomes the case, I'm sure it'll greatly expand the user base.
The ease of getting up and running is as simple as connecting your Instagram account and you're off. Some of the rhetoric, however, has been that if you decide you want to delete your Threads account, it'll also delete your Instagram account. With that information, you'll want to make a decision to use the account where you've already built an audience, or you can start fresh with a new one.
With Twitter threaded tweets, there is a linear posting structure making threaded tweets and comments to those tweets all in line. With Threads, however, the structure is made to align dynamic conversations where a user can reply to a specific post in a thread, thereby creating a subthread to have a separate conversation with other users.
Twitter has had a lot of turmoil since Elon Musk took over, in Q4 of 2022. Most recently, he turned off access to view Tweets without having an account. This marked the perfect time for a rival to come online, next to Bluesky, Post, and others that have come about.
What does this mean for businesses?
Being an early adopter can be promising for companies looking to break the cycle. Since Threads already has roughly 18% of the number of users that Twitter has, it's a great time to get ahead.
A lot of the same strategies that work for growing Twitter audiences can be used on Threads. Select topics that are relevant to your business and audience. Be sure to post consistently, tagging people and other companies. However, since you have more to work with than Twitter, make it unique. Use the extended character length to your advantage. Hashtags don't currently work for searchability, however, I would assume that they'll be the norm, soon enough, so be sure to incorporate them. Most importantly, engage with your audience. Encourage feedback and questions within your posts. Get the conversation started and take it from there. It could be used as a product feedback loop, polling tool, opinion engagement, and more.
A way to monetize your audience on Threads is to charge for Sponsored posts. You can also sell through posts since links are easy and immediately available to use. Again, a lot of the same methodology as Twitter monetization can work for Threads.
---
Chiles Co is the premier executive strategy and digital transformation agency dedicated to empowering businesses to achieve their goals and thrive in the digital era. They'll help you with your first-party data and digital transformation needs.
---
Downsides
There are a few downsides to note. One downside to Threads is that it is only an app, without a website to be able to handle things from a browser. You can see and read posts on threads.net, but you can't post directly from there. You must use the iOS or Android apps. Another downside is there isn't a direct messaging feature, yet. You can only follow someone and post/reply while tagging their @username to potentially notify them.
Personally, I'm liking the app so far. I've already connected with many people and have started posting on the app. One thing I'll keep in mind - social media platforms don't always go according to plan. Does anybody remember Google+?
---
Must Reads 📖
These are some of our favorite newsletters to help your businesses grow:
How we can help 🙌
Whenever you're ready, there are a few ways we can help:
Consulting Services: With over 20 years of progressive technology, digital media, first-party data implementations, and more, we can help you with your digital transformation needs. Get in touch!
Business Resources: We have a plethora of digital products that can help you with your marketing strategy, email list building, lead generation, and more. Take a look!
Promote your business to 6,200+ business leaders, executives, entrepreneurs, marketers, media professionals, and more that are subscribers by sponsoring this newsletter.