Layoffs
Layoffs in Big Tech and Media
Economic headwinds are causing major disruption for tech and media companies relying on advertising revenue.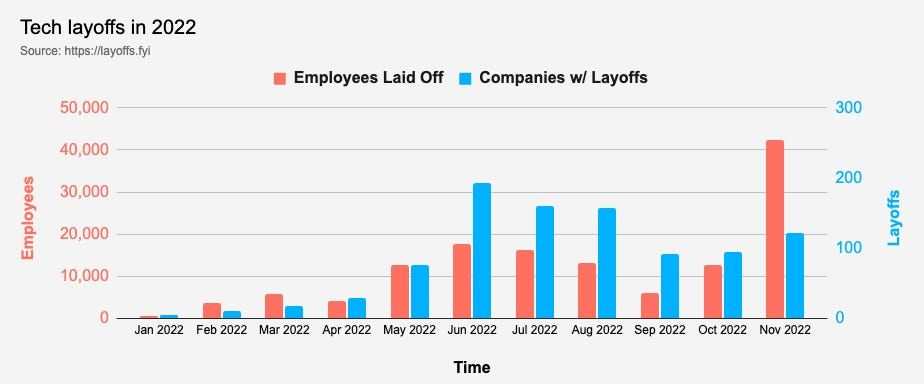 Let's talk about the cuts that are being made in tech and media, as of late. This year has been absolutely brutal for companies that had a strong reliance on advertising. During the height of the pandemic, companies like Meta, Snap, and Twitter were reaping the benefits of people staying home, spending more time online, and getting that extra stimulus check to boost the economy. Fast forward to 2022 and supply chain issues in addition to record inflation have all but halted that trend. With more and more competition, the slices of a user's attention span keep getting smaller and smaller.
---
Advertising & Sponsorship Management System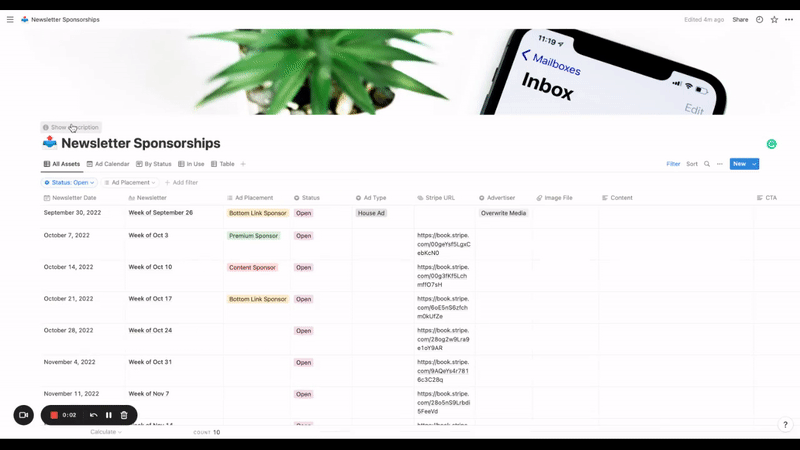 At Overwrite Media, we needed a better system to manage our newsletter calendar, sponsorship bookings, open/closed inventory, and a record of the client details, such as content, images, click-thru links, and more. So, we built one on Notion, and have made it available for any media business or creator looking for a system to manage their advertising and sponsorships.
---
It started for the big tech companies based on poor earnings reports, seeing the economic slowdowns keeping the companies from reaching their expected EPS and revenue numbers to be higher. Here are some of the notable tech cuts that we've seen this year:
Snap cut 20% of its staff following a weak Q2 earnings report where it showed that its lost 80% of its market value
Prior to Elon Musk's acquisition of Twitter, it was expected that he would cut 75% of the staff. Shortly after taking over, he cut 50% of the staff, then 80% of outside contractors.
Facebook parent Meta cut 13% of its workforce, which is roughly 11,000 employees, just this month.
Amazon started making cuts of up to 10,000 corporate workers this week and states that layoffs will continue into 2023
Some see these as general cost-cutting measures, but others, like Peter Kafka, think that, while these are cost-cutting measures, they're also a more gleaning cultural reset that's needed in Silicon Valley.
So how does this equate to the cuts taking place in media? A lot of the same economic headwinds that technology companies with ad-revenue face are seen by media companies. As said at the beginning, we're all vying for attention. Some of the more prominent media brands in the world are facing difficult economic times. However, there are some differences. Albeit advertising has slowed down, the competition for subscription dollars has drastically increased. Although Netflix just launched a lower-tiered, ad-supported subscription, it's still a monthly cost with advertising embedded. But, even Netflix has announced cuts this year. Here are some of the notable media cuts from this year:
I could go on and on about the cuts made this year, and what's planned for 2023. The bigger issue is how to stave off the impending changes across the attention landscape. Entrants like TikTok are continuing to gain traction and take market share away from all of the above-noted companies. And, they're taking notice. Yesterday, the Hustle reported that TikTok is looking to take advantage of all of the layoffs from the Silicon Valley giants. While the other companies are seeing ad declines, TikTok is forecasting growth from around $4B to $10B just this year.
The big takeaway is that tech and media companies alike are having to be very careful about their spending going into 2023. Even worse is that their economic projections are rocky at best, not knowing how, or if, the advertising market will turn around.
---
I've launched the new Chat feature in the Overwrite Media Substack. Let's talk about this. I'd be interested to hear the feedback that you are all getting around economic downturns and what to expect for 2023.
Thanks for reading and feel free to send me a note with any feedback or thoughts at mark@overwritemedia.com. For information about sponsoring Overwrite Media and getting in front of media, data, and business professionals, take a look at our Sponsorship Opportunities.