CDP
Customer Data Platforms (CDPs) for Beginners
In some circles, the acronym CDP is accustomed to a buzzword such as "cloud." In others, it's an essential part of a company's Martech (marketing technology) stack.
What is a CDP?
First off, let's talk through what a customer data platform (CDP) is. CDPs are platforms that can consolidate multiple data sets and integrate customer data in one single location. It can help a company unify marketing data and enable customer modeling and predictive scoring to provide business intelligence to teams to make differentiated decisions around marketing messages to customers or determine the next steps for a business to take, directionally.
Over the last few years, these platforms have evolved to offer more than just a marketer the ability to understand the customer. From providing insight into a 360-degree view of a customer to being able to provide predictive churn propensity based on an online reader's behavior, a CDP can now bring a completely new set of intelligence into the mix.
Data Warehousing and Collection
CDPs have started to become the defacto data warehouse now for companies. These platforms, typically, have native integrations with some of the common data providers - ie: Google, Marketo, SalesForce, HubSpot, Amazon Web Services (AWS), Bombora, Facebook, MailChimp - just to name a few. This type of data lake, as it's called, helps to have many data sets in one place. What that helps with is not only a single source for customer data to flow to/from, but also helps to be able to cross-query across all of these data services, whereas before, there would be a lot of exporting out of, then importing into, applications such as Microsoft Excel or a local Access database.
This warehouse would encompass a company's first-party data, then you would be able to ingest third-party data and create references and inferences around the information that you have.
Campaign Management
With a CDP, a company can create multichannel campaign management to provide a single source for marketers to be able to see information and pass it back out to their related marketing platforms, such as Marketo, HubSpot, Facebook Ads, etc. to have campaigns started directly from an output of data that's queried and created. For example, a marketer may query across paid conference attendees to a company's event, and have registered for a free account, and output those users to a list in Marketo to have a paid subscription email sent to them, based on their interests….automatically. Once you build a customer segment like that, you can continually use it, tweak it, or clone it and make associative changes to have a slightly different customer segment.
Data Science and User Personas
CDPs and data science can go hand-in-hand. With Treasure Data, you can use the R programming language to create complex customer relationship queries between different data sets and create workflows. An even further impact of CDPs is the relatively simple creation of User Personas. This means that you can find like-type people, within your customer profiles, that may share common interests or traits. For example, if you want to find people that are in the Executive Suite, your definition may be different than others' definitions. Say you want to find everybody that is a CEO. Well, a CEO, being the Chief Executive, may or may not have that exact title. So, you may have a Like CEO persona that would qualify. Data science can help to identify those folks for you so that you can have a better example of who and how to target a marketing message. For instance, Owners, Managing Directors, and Founders may also be the Chief Executive of their respective companies, but if you were only searching for the explicit title of CEO, you may be missing prime prospects.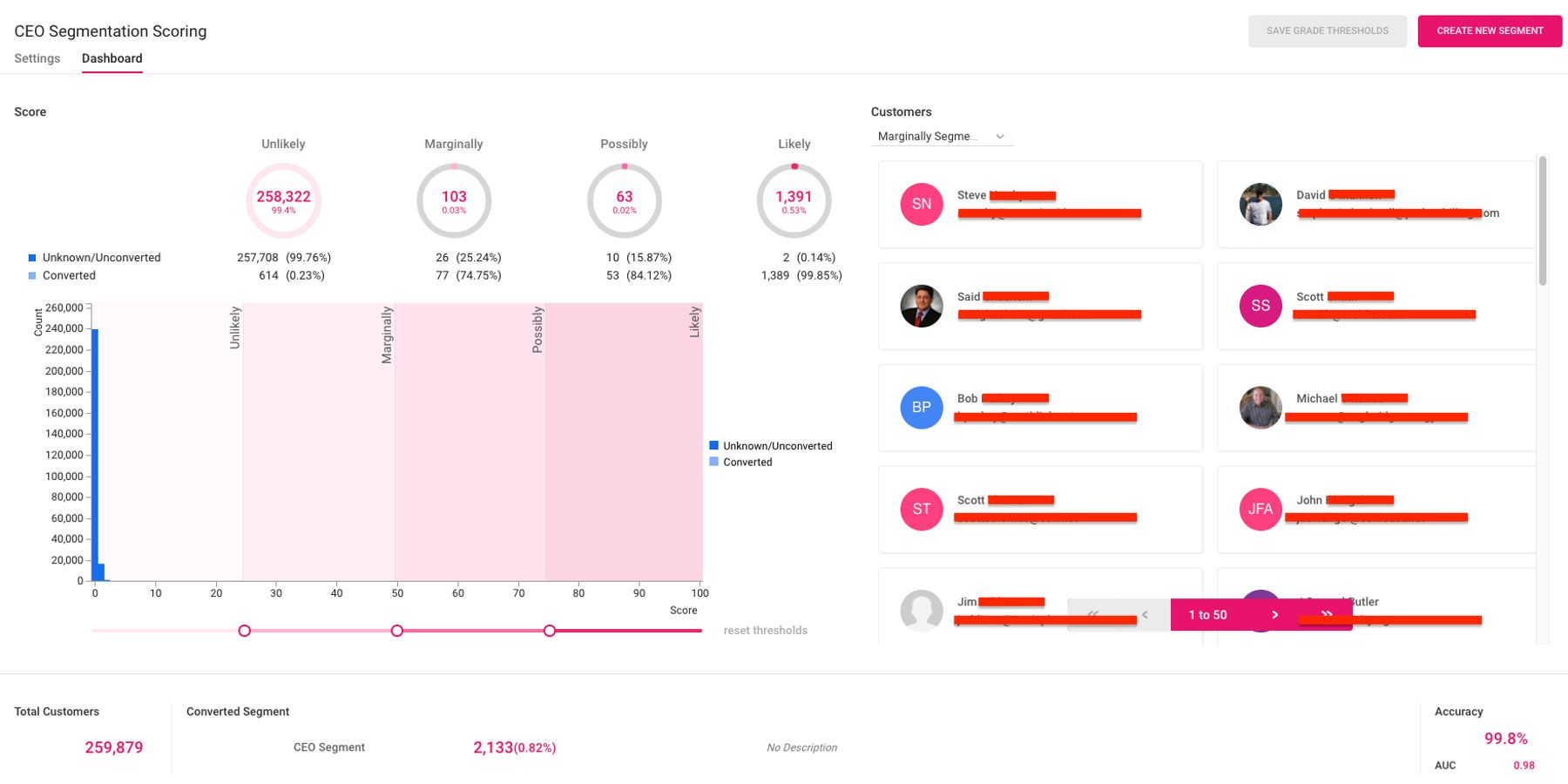 In the screenshot above, you can see that there are segments created for Possibly CEOs, Likely CEOs, Marginally CEOs, and then Unlikely. In the screenshot below, you can see the data behind the decision based on the personas created.
Advanced CDP Usage - Predictive Modeling and Activation
We'll cover more advanced CDP at a later time, but I wanted to showcase this. Say a company has an online subscription business with a churn rate that is higher than they would like. The objective is to curb attrition. But first, data has to be known about why there is attrition or what the factors are that are causing it. Is it that people aren't staying on the site long enough, or that they aren't active on the site for a certain amount of time, therefore they cancel their subscription when it hits their credit card, or is it some other factor? One main thing to look at is subscriber behavior. Providing a controlled list of expired users and comparing it to current subscribers can provide a CDP the data that it needs to do predictive modeling.
In the example below, you can see that there are 71 people that are most likely to churn from their subscription. The marketing team can quickly identify these users, send them a campaign, and keep them engaged.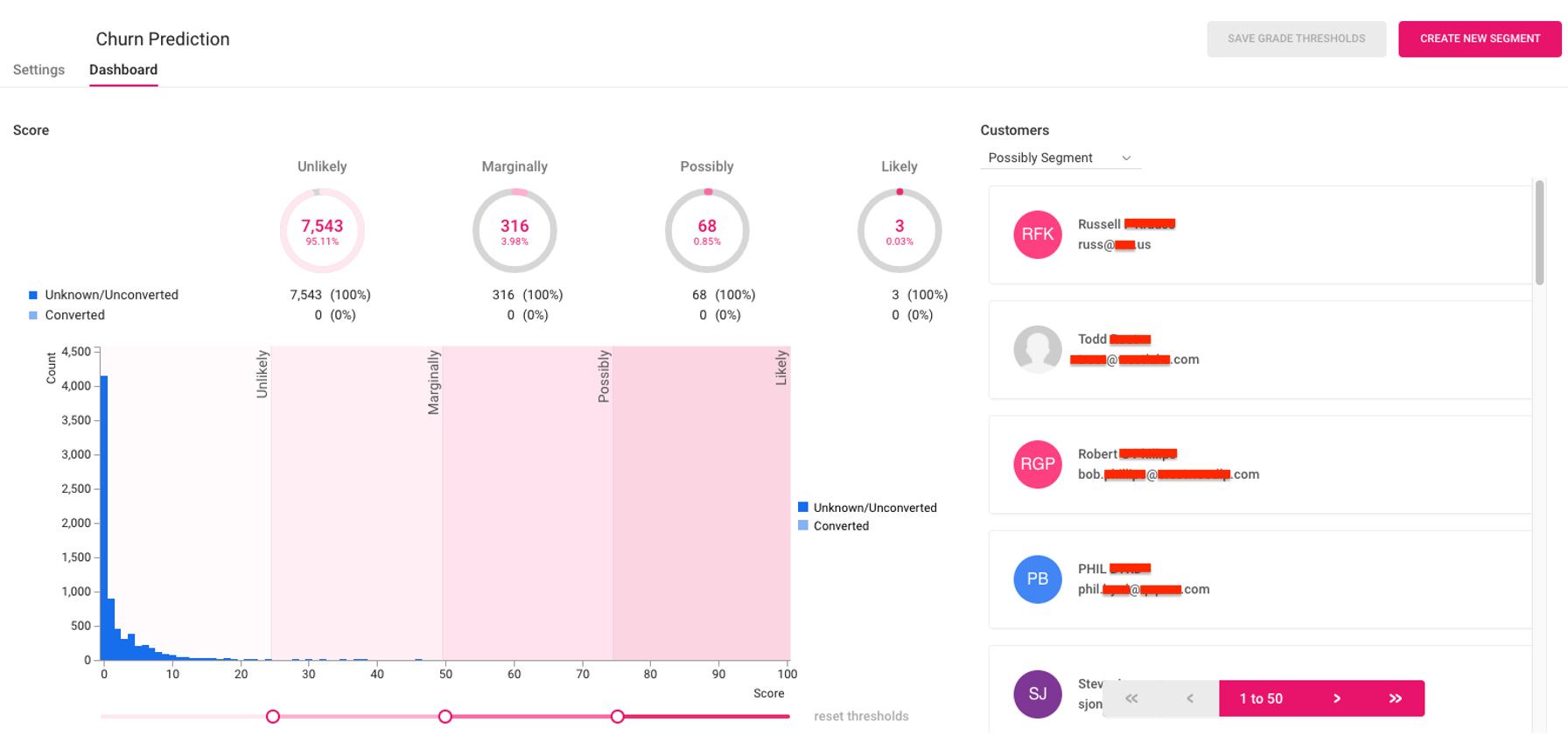 These are just some of the high-level benefits of a customer data platform. There is a plethora to choose from, but here's a list of some of the industry leaders:

Treasure Data
Segment
Tealium AudienceStream
Lytics
SalesForce Interaction Studio
Blueshift
Adobe Experience Platform
Microsoft Dynamics 365
Personally, I'm a Treasure Data fan. However, I found that the more technical your skill-set is, related to T-SQL and the general SQL language, the better off you are to be able to implement it. However, whichever way you go, a CDP is an extraordinarily useful tool.
Have any questions or thoughts, feel free to shoot them my way - mark@overwritemedia.com. I'd be happy to talk with you about your CDP experiences.
---
Mark E. Chiles is the Founder of Overwrite Media and has an extensive two-decade career in progressive technology and digital media. He's been a speaker at several conferences related to digital marketing, media, and customer data. Connect with him on Twitter @markechiles or on LinkedIn.